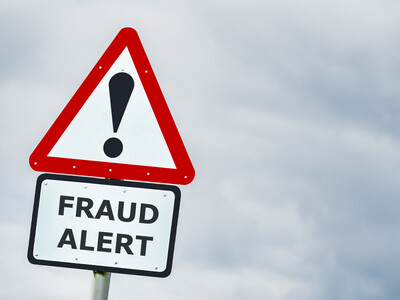 Fraud Awareness Tips: Learn How To Spot a Scam
Because there is no foolproof way to prevent fraud, awareness is the best defense. Here are a few tips to keep in mind.
We don't own, buy or sell the vehicles listed on our site.
BuyHerePayHere.Autotrader.com is an online vehicle listing service that connects car buyers with sellers. We are not car dealers. Any listing information about a particular car comes directly from the seller-not us.
If you receive an email that implies that Autotrader or Kelley Blue Book are selling you a vehicle, please report it to us and to law enforcement. It's most certainly a scam.
We don't offer automotive warehousing or shipping services.
Any email that requests a deposit or payment for a shipment of a car stored in a "Buy Here Pay Here" warehouse is a scam. BuyHerePayHere.Autotrader.com doesn't own a warehouse, and we don't ship cars. Simply put, we don't get involved in transactions between buyers and sellers (see more below).
It's becoming increasingly popular to buy a car online and have it delivered. There are plenty of reputable dealers doing this. It's good for sellers and convenient for buyers. But be careful If a seller recommends a bogus warehousing or shipping service, report the seller to us and to law enforcement.
We don't get involved in transactions between buyers and sellers.
Don't respond to any email that appears to come from BuyHerePayHere.Autotrader.com (for example, by displaying our logo) and urges you to complete the sale or purchase of a car listed on our site. Such emails are a sure sign of a scam.
Other signs of fraud are emails that:
Claim the security of a transaction is guaranteed by BuyHerePayHere.Autotrader.com.
Imply we've verified information about a particular buyer, seller or listing.
Describe a "preferred" or "pre-approved" buyer or seller program.
BuyHerePayHere.Autotrader.com doesn't guarantee or endorse transactions, and we don't have preferred or pre-approved buyers or sellers. We'll never encourage you to buy any particular vehicle listed on BuyHerePayHere.Autotrader.com or to sell your vehicle to any particular buyer. If you receive a suspicious email such as the ones described, report it to us and to law enforcement.
We don't ask you for personal or financial information via email.
Online fraud often begins with a fake email requesting financial information. These scam emails (sometimes known as "phishing") often impersonate a reputable company such as BuyHerePayHere.Autotrader.com by illegally displaying a company's name, logo or trademark.
The intent is to deceive customers into revealing information such as:
Username
Password
Social security number
Bank account number
Bank routing number
Credit card number
The only time we'll ever request your credit card information is if you're selling your own car and purchasing an ad on one of our websites to do it. If you receive an email that asks for the kinds of information listed above, don't respond. Instead, report the email to us and to law enforcement.
We don't require payment to enter a sweepstakes.
BuyHerePayHere.Autotrader.com may offer promotional contests from time to time, but we'll never require payment to enter a sweepstakes or to claim a prize.
If you receive an email that claims we're holding a promotional contest or sweepstakes:
Check our website or call Customer Service at 1-800-548-8889 (Mon.-Fri. 8:00 AM - 6:30 PM EST) for accurate information. If you don't get confirmation from us that we're holding a contest, don't participate.
Don't click any links embedded in email messages. A link may look correct, but the code behind it could take you to a different website. Copy and paste a link into your browser's address bar.
If you think you've received a fraudulent email involving a promotional contest, report the email to us and to law enforcement.
We don't independently inspect vehicles listed on our website for flood damage.
Whenever a big hurricane happens, thousands of cars end up underwater. In 2005, for example, Hurricane Katrina flooded an estimated half a million cars. These damaged vehicles may make it into the used car market all over the U.S. and may be sold to unsuspecting buyers.
Be aware that flood-damaged vehicles may have been:
Submerged in water and covered in mud.
Contaminated with toxic chemicals.
Carrying large amounts of harmful residue.
Corroded, causing damage to electronic components.
If you own a flood-damaged vehicle, contact your insurance company. Your insurance company can work with vendors to determine if your car is worth repairing or if it needs to be declared a total loss.
Beware of fraudulent escrow services
For a fee, an escrow service holds the buyer's payment until the seller has delivered the item purchased. Such a third-party service can protect both parties from fraud. However, scammers often set up fake escrow services. They claim an affiliation with well-known companies like BuyHerePayHere.Autotrader.com and TRUSTe, for example, to create a sense of security.
BuyHerePayHere.Autotrader.com does not endorse any particular escrow service, and TRUSTe does not operate an escrow service.
Remember these tips before you agree to use an escrow service:
Avoid any service that implies an affiliation or partnership with BuyHerePayHere.Autotrader.com, Autotrader.com or our sister company, Kelley Blue Book.
Avoid any service that claims to be operated by TRUSTe. TRUSTe doesn't operate an escrow service.
Verify an escrow service's legitimacy by checking with state regulators.
Research the escrow service.
Decline the transaction if the other party insists on using an escrow service that you're not sure about.
Use a search engine to open the website in a different browser. Don't click on a link contained in an email.
Dial the contact number listed for the service.
Search for the company on the BBB website.
And once you find an escrow service you're comfortable with, be sure you understand:
What conditions must be met before the payment is released to the seller.
What the escrow service charges.
Which party is expected to pay the fee.
If any escrow-related email or website implies an affiliation with us by displaying our logo or by other means, report it to us and law enforcement. Check our Internet fraud resources section for more advice on escrow services.
Internet Fraud Resources
Visit the sites below to learn more about Internet fraud.
Internet Fraud Complaint Center (IFCC)
Better Business Bureau (BBB)
Federal Trade Commission (FTC)
Securities & Exchange Commission (SEC)
National Insurance Crime Bureau (NICB)
Coordinating Committee of Automotive Repair (CCAR)
Department of Motor Vehicles